We had a wonderful trip to Africa, please check out our updates in Africa
Hezron Juma Okaba heads the churches in Africa.
He is a faithful servant of God. Below is his story: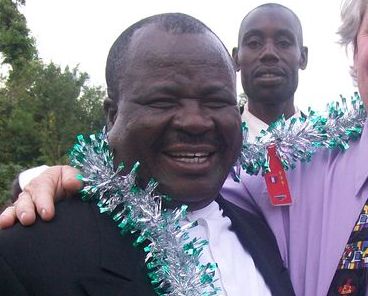 Testimony of Hezron Juma Okaba

l was born on April 17, 1956 into a family of four children, l was the last born to my mother who died when l was two years old. My father left the home and we were raised by my mother's grandmother. l did not see my father until 1966 the year my grandmother died. This was at the time l was joining "Standard One". Because God had given me His abilities l was very clever and most of my school fees were paid by relatives and school teachers, until l finished "Primary Education". l had no one to pay my school fees to the "Secondary School of Higher Education".
Since I could no longer afford school, l joined up with a neighbor who was an inspector with the police in Uganda. This police officer was operating an illegal business of importing & smuggling leopard skins in Uganda at the time of the ruling of "A Mini Dada." We were caught and were facing the death sentence, which was done at the end of a firing squad. They covered our faces with red napkins so we couldn't see, we knew the end of our life had come. At that moment I cried out to God asking for His forgiveness and for Him to come into my life. I cried out for Him to spare my life, to do this miracle for me. I told Him "If You spare me today, l will serve You the rest of my life". It was then that I heard the bullets coming out of there guns, I heard the other two fall and die, I knew that the next bullet was for me. But somehow, incredibly, God stopped them from shooting me. I was beaten and told to pay them 70,000€ Uganda shillings. As I left the border, I spoke, "I will return some day preaching the Gospel of God." In 1980, l did exactly what I had promised God that I would do, I came back preaching the gospel!
After leaving Uganda l joined the church in 1976. I then attended "Morris Cerulo Bible College," where I graduated two years later with flying colors. I received a diploma in both "Mass" and "Personal Evangelism". In 1978, l became a pastor. I continued my education going to several other "Bible Colleges." After this, l joined "KMTI Bible College" for three years, from which I graduated with honors, earning my Diploma in "Theology." l now hold eleven certificates, two diplomas, and three certificates in formal school. I also hold six one year certificates in different "Bible Study Programs".
God has given me the chance to travel and preach in different countries including: Kenya, Uganda, Tanzania, Burundi, DR-Congo, Rwanda, Nigeria, Ghana, Ethiopia, Sudan, Cameron, Europe, Netherlands, Rome, Britain, & Sri Lanka in Asia. Also in 21 states in the United States of America.
My life has been in danger many times. I was almost killed once in Uganda, once in Ethiopia, twice in Burundi, and once in DR-Congo. I know that God remains forever, and He knows how to rescue! l believe that all of this was the hand of God in my life. He spared me, I am His to use as He sees fit. I still have the vision to reach more countries for God. l am able and willing to raise up other leaders who will follow after me in the work that God has given me to accomplish.
I have a wonderful wife, Melisa, we have been married since May of 1977. We have six children and 10 grandchildren.
God has blessed me with over 79 churches under "Freedom International Ministries of Kenya". We now have churches in Kenya, Uganda, Rwanda, Burundi, Tanzania, & DRC Congo, including 3 Bible Schools, & we take care of 100's of orphans, placing them in homes of church members to be cared for. We are associated with Freedom Ministries Worldwide INC in Henrico, Virginia, as well as other business men and pastors in the United States of America.


Your brother in service
Rev. Hezron Juma Okaba.

Hezron and his wife Melisa in their home in Kenya.
These are the plans for the church administration building and main church building
This is a refugee camp in Lugari Pastor Hezron has been ministering at.